In Dark Mode, TaxCaddy uses a darker color palette for all screens, views, menus, and controls. You will also see a more vibrant foreground content stand out against the darker backgrounds. Dark mode reduces the luminance emitted by device screens, while still meeting minimum color contrast ratios. TaxCaddy Dark Mode also improves visual ergonomics by reducing eye strain, adjusting brightness to current lighting conditions, and facilitating screen use in dark environments.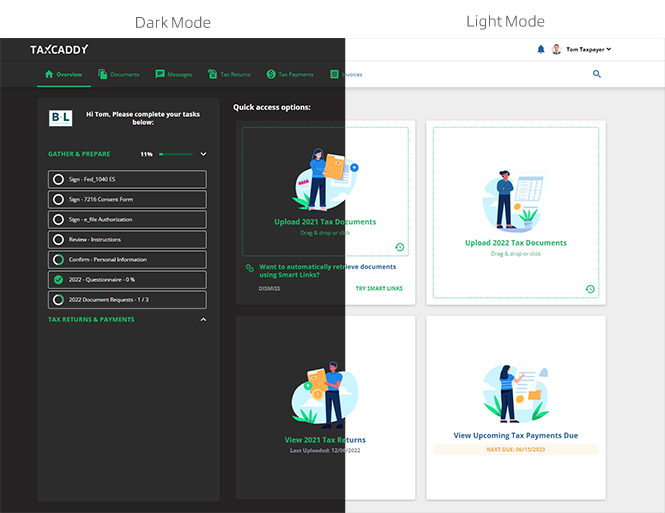 TaxCaddy.com on PC, Mac or tablet
Follow these steps to enable Dark Mode:
Log in to TaxCaddy.com.

On the upper right, click the User Menu then click Settings.

On the Settings tab, click Accessibility.

Click On to enable the Dark Mode. Click Off to disable the Dark Mode.

Once enabled, Dark Mode will appear on all pages.

Dark Mode color theme may vary based on the tax professional you are connected to.
iOS mobile app
Follow these steps on your iOS mobile phone app:
Tap Settings.

Tap Display & Brightness.

Select Dark to turn on Dark Mode.

Login to TaxCaddy to see Dark Mode enabled according to device setting.
---