TaxCaddy supports the last 3 versions of the following web browsers:
Chrome
Firefox
Safari
Edge
When using an unsupported web browser you will see the following message: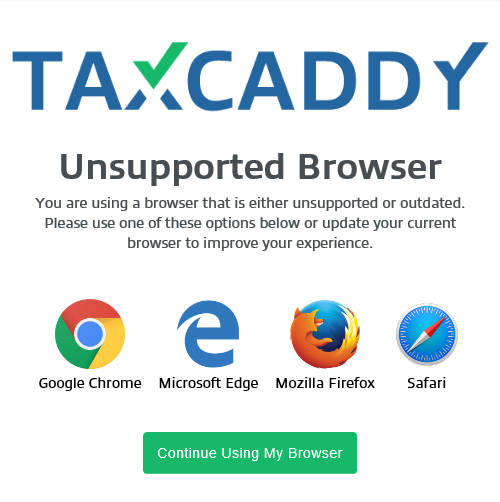 You can click Continue Using My Browser to proceed to the login page. However, some features may not work as desired. We recommend using a supported web browser and updating it to the latest version to ensure a pleasant user experience.
Supported Mobile Devices
TaxCaddy supports the following mobile devices:
| | |
| --- | --- |
| Operating System | Version |
| iOS (Apple) | Greater than version 13 |
| iPadOS (Apple) | Greater than version 13 |
| Android (Google) | Greater than version 8.0 |
Some TaxCaddy features may not be available on an iPad when accessed through a web browser (i.e. Safari). We recommend downloading the TaxCaddy app for the best user experience.
You will not be able to download the TaxCaddy mobile app on older unsupported mobile devices.
TaxCaddy on iOS is
not
available in China (Mainland).
If you are using an unsupported mobile device then we recommend using TaxCaddy on a supported web browser on your desktop or tablet.