To make sure you receive emails from TaxCaddy, you should add taxcaddy.com to your list of safe senders. "Whitelist" the sender or an entire domain name to make sure our emails go to your inbox. If you have trouble receiving emails from TaxCaddy after following these instructions, contact support.
Add one email address to the safe senders list with the Never Block Sender function
There are two handy functions - Never Block Sender and Block Sender in Outlook, which can help you quickly add your selected sender address in the mail message list to the safe senders list or blocked sender list with one click.
1. Select the message of the sender that you want to add to the whitelist, and click Home > Junk > Never Block Sender: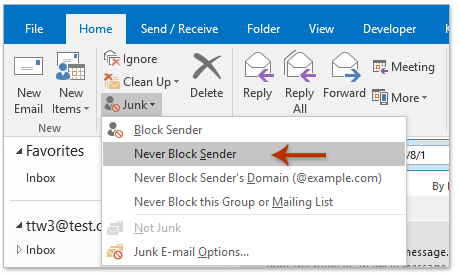 2. A prompt box will pop up to remind you the selected address has been added to the safe senders list. Click OK.

With this method, you can add one address into the safe list at a time. If you want to add multiple addresses, you need to add them one by one. If you don't have an email message from the sender, but know their email addresses, the Junk E-mail Options can help you.
Add multiple email addresses to the safe senders list with Junk E-mail Options
1. Click Home > Junk > Junk E-mail Options.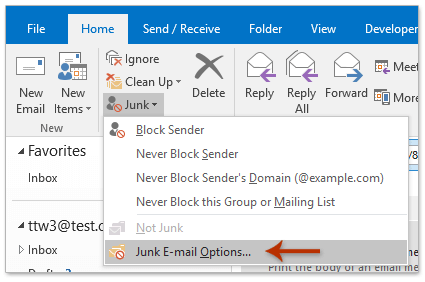 2. In the Junk E-mail Options dialog, click the Safe Senders tab, and then click the Add button.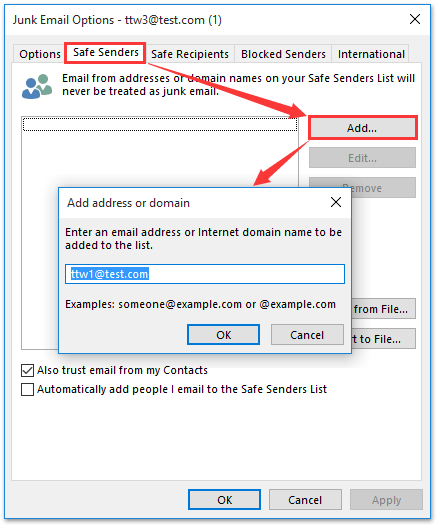 3. In the pop up Add address or domain box, enter an e-mail address or domain of the person you want to whitelist to the text box (Ex: "taxcaddy.com"), and then click OK. For adding more email addresses to the whitelist, repeat this step.
4. Then click the OK button in the Junk Email Options dialog box.
Notes:
(1) If you check the Also trust e-mail from my Contacts option, your addresses in Contacts are considered safe senders.
(2) Some people might not be listed in your Contacts. If you want all such people to be considered safe senders, check the Automatically add people I e-mail to the Safe Senders List option.