Manage your personal information, account security, Smart Links, manage payment accounts, and additional user accounts in Settings.
Click here to show/hide screenshots for iPhone mobile phone app.
Click here to show/hide screenshots for Android mobile phone app.
TaxCaddy.com on PC, Mac or Tablet
Settings
On the Settings tab, you can change your default tax year, view your personal information and update your password.
Note: You may need to scroll down to view all Settings.
Click here to learn more about account settings.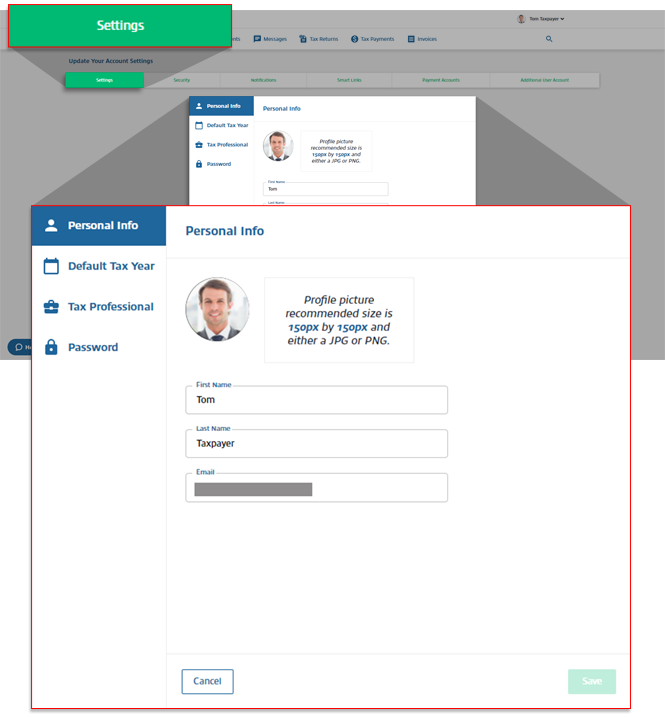 Security
Two-factor authentication helps keep your account secure by prompting you to enter a security code each time you log in. You can also update your security questions.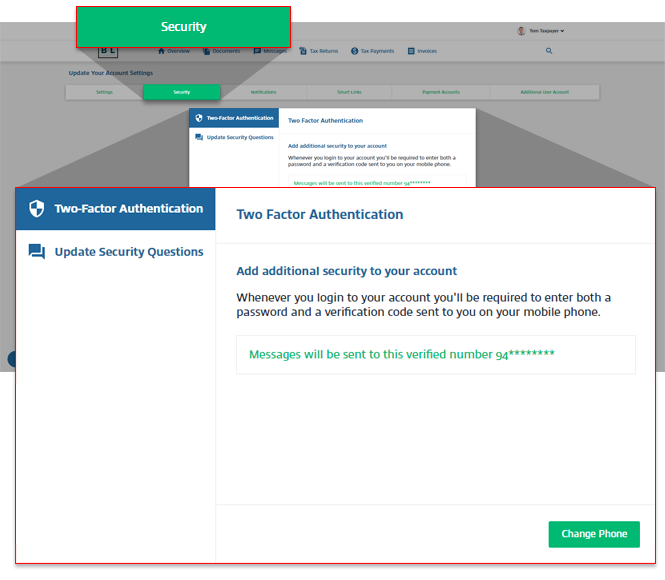 When signing in, you can select Don't ask me for verification again on this computer to have TaxCaddy remember this device to avoid entering the code when logging in on this device in the future.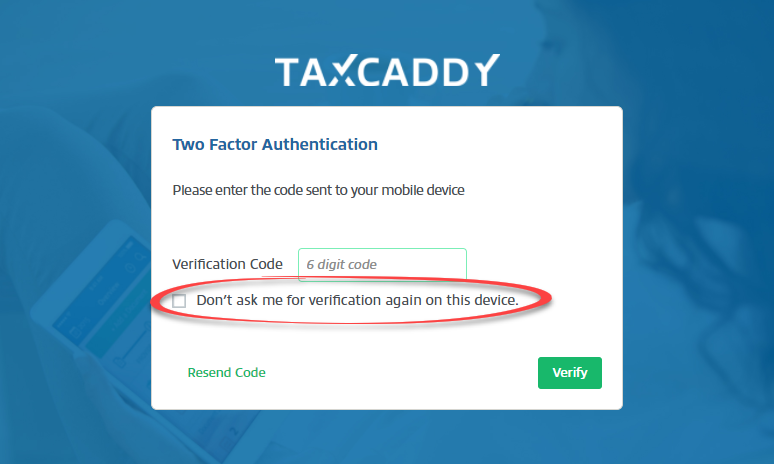 Notifications
On the Notifications tab, you can subscribe to or unsubscribe from Notifications.
Note: Lower priority notifications are summarized and collected into a single email sent once per day (maximum).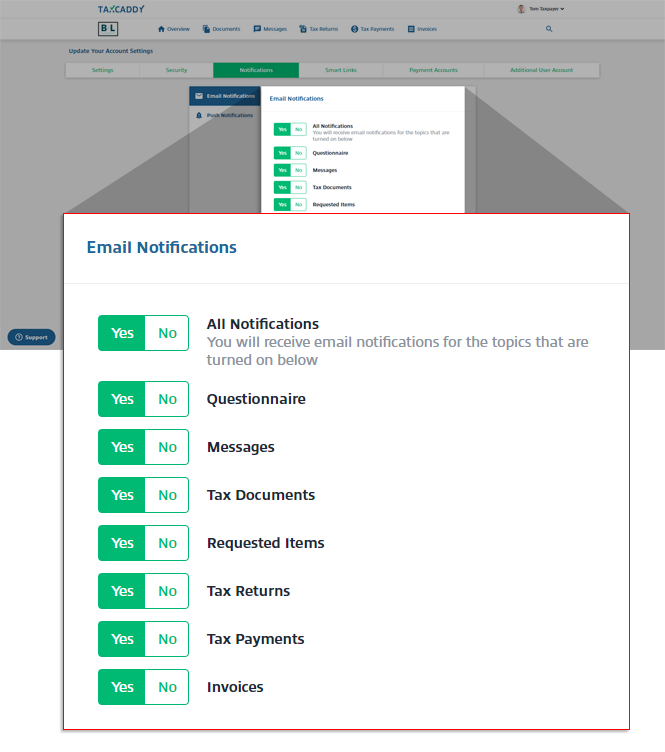 Smart Links
Smart Links between TaxCaddy and financial institutions allow TaxCaddy to retrieve documents directly from the financial institution.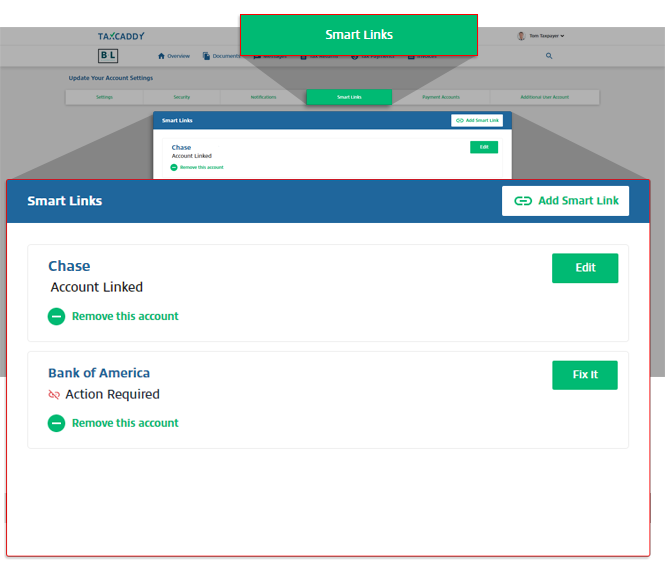 Payment Accounts
Your Tax Professional can charge you fees for their service by creating an invoice. These invoices can be paid using a credit card or directly through a bank account. To make payments from a bank account, you must add and verify the bank account.
To add a bank account, click Add Bank Account.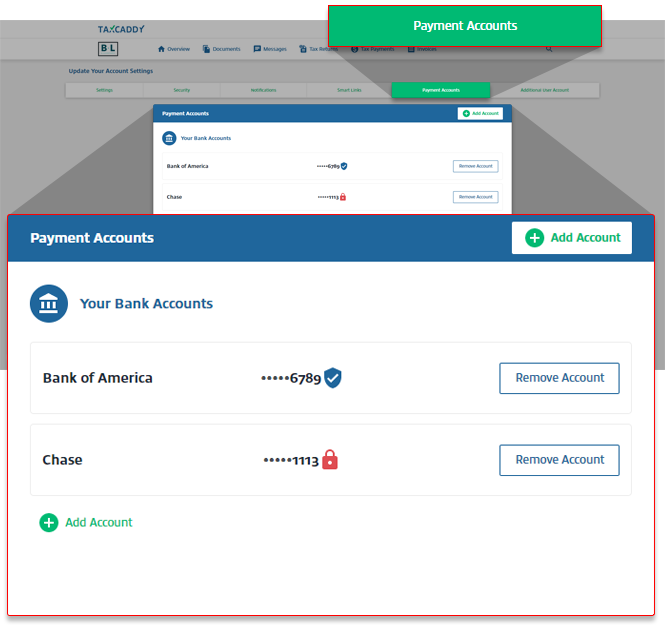 There are two methods of adding a bank account:
Instant Verification - Requires you to sign in to your bank account to instantly verify your bank account.

Manual Verification - Requires you to add your add Routing Number, Account Number, Account Owner's Name, and Account Type. Once the bank account has been added, you will receive micro-deposits in two business days. Enter the amounts to complete your account verification.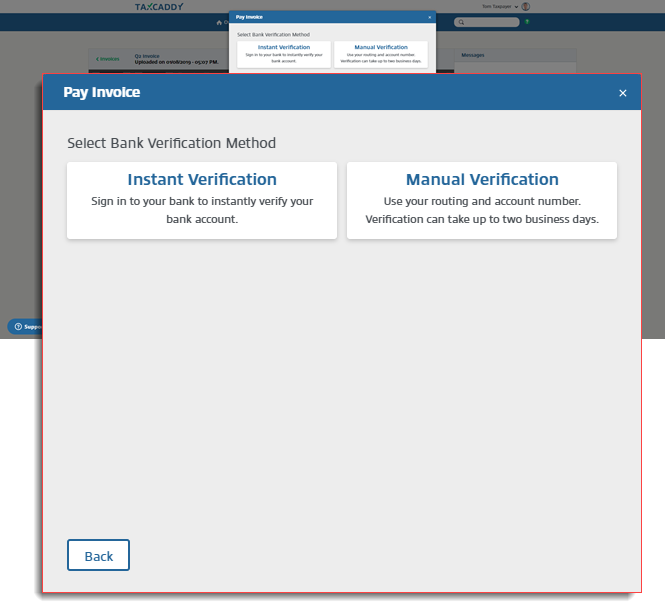 Additional User Account
If you need to grant access to your TaxCaddy account to your spouse or another individual, you can invite them to be an additional user on your account.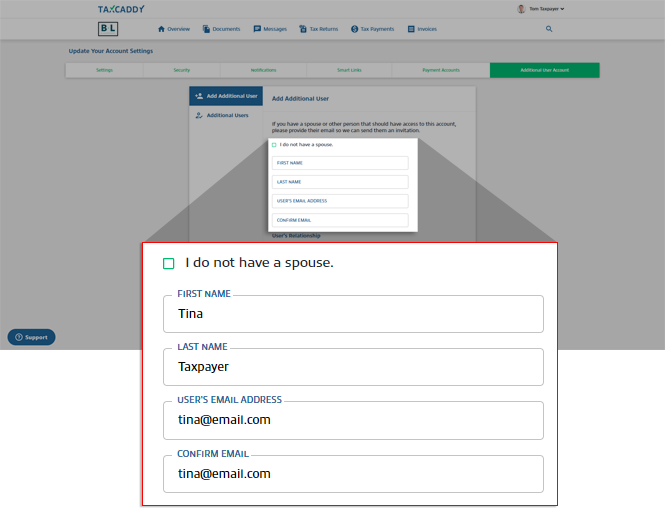 Additional users can upload documents and view the tax documents you upload, as well as review and sign certain tax documents uploaded by your tax professional.