You can use the document viewer to view documents right inside TaxCaddy.
Click here to show/hide instructions for iPhone mobile phone app
Click here to show/hide instructions for Android mobile phone app
TaxCaddy.com on PC, Mac or tablet
Follow these steps to view a document in the document viewer using TaxCaddy.com on your PC, Mac or tablet.
Log in to TaxCaddy.com

Click Documents.

Click to select the applicable tax year.

Click the document you want to view.


The document opens in the document viewer. To download the document, click Download on the lower left corner.

Click here to learn more about viewing documents in the Document Viewer.



You can message your tax professional regarding this document using the message panel on the right. Your message is automatically associated with the document and also accessible in Messages.

When you're done viewing the document, click Uploaded Documents to go back.



You can also download documents directly from the Uploaded Documents tab. Select the check box next to each document you want to download.

To bulk download, all uploaded documents, click Select All to select all uploaded documents.

Click Download to bulk delete all selected clients.
Downloading without Annotations
Click the Menu icon

on the document tile.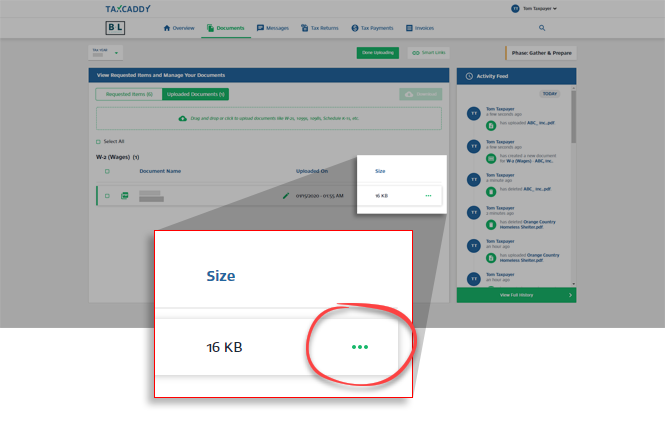 Click Download.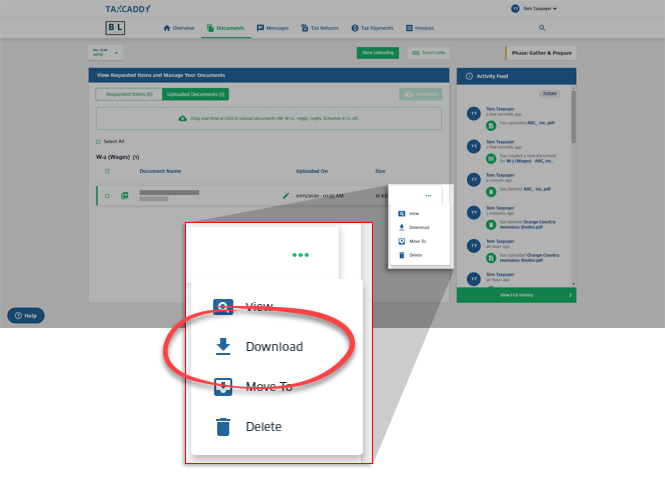 One the Downloading Document dialog box, click Download Without Annotations.