Hey everyone, here's what's new in the TaxCaddy Android app this month:
Signature enhancements
We've updated the process of collecting your spouse's signature when it's requested by your tax professional!
Click here to learn more about signing documents as a taxpayer.
Click here to learn more about singing documents as a spouse user.
If you've indicated to TaxCaddy that you have a spouse, TaxCaddy will now wait until all pending taxpayer signatures have been collected, at which point we will provide you with two options for your spouse to fulfill their spousal signature requests.
My spouse will sign now: TaxCaddy will send your spouse a verification code to the spouse's phone number on file to verify their identity. After confirming their identity, they can proceed with the signature requests using your current device.


My spouse will sign later: If they choose to sign later, you can invite them to create an account to fulfill their spousal signature requests from.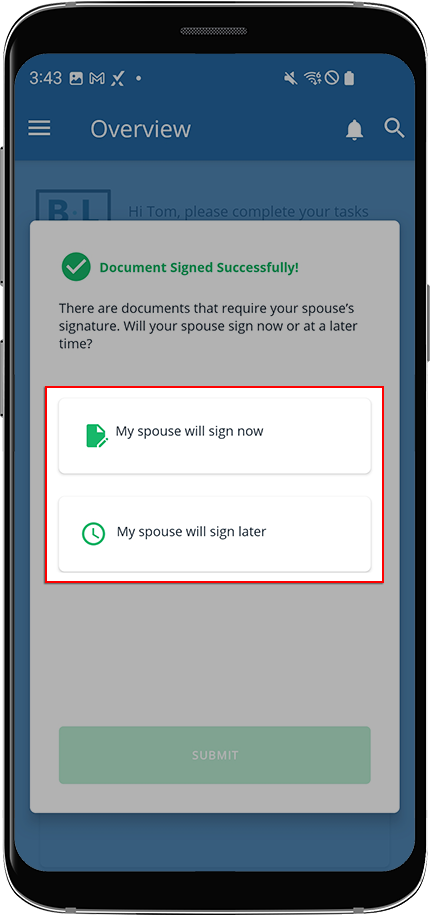 Proceeding to your next signature request
When completing multiple Sign tasks in TaxCaddy, you can now be redirected to your next pending Sign task without needing to locate it within your Task List. Once you've completed a signature request, you may be prompted at the bottom of your device's screen to navigate to the next pending signature task if one exists.
You can tap

NEXT TASK

to open your next signature task in the

Document Viewer

to complete.
You can tap

CANCEL

to remain on the

Overview

screen
Click here to learn more about fulfilling signature requests.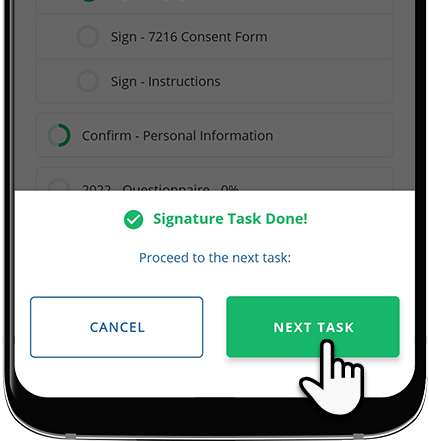 Downloading signature requests
You can now download a pending signature request straight to your device's file manager. If you'd like to download a signature request document, open it in the Document Viewer and tap the Menu

icon then tap Download.
 You can access the downloaded file from the My Files app on your device.